Fun, High Energy TAEKWONDO
Sueng–Ni Taekwondo is a martial arts school in Saginaw, Michigan with franchise locations crossed the state of Michigan including Midland and Bay City that specializes in the Korean martial art of Taekwondo. The school was founded by Master Gary Hausbeck, a 9th degree black belt who has been practicing Taekwondo for over 40 years. Sueng–Ni Taekwondo offers a variety of classes for both children and adults. The school also offers a competitive team for those interested in competing in Taekwondo tournaments. Whether you are looking for a fun way to get fit, or you are interested in learning self–defense, Sueng–Ni Taekwondo is the perfect place for you. 
Come check us out today and see what Taekwondo can do for you!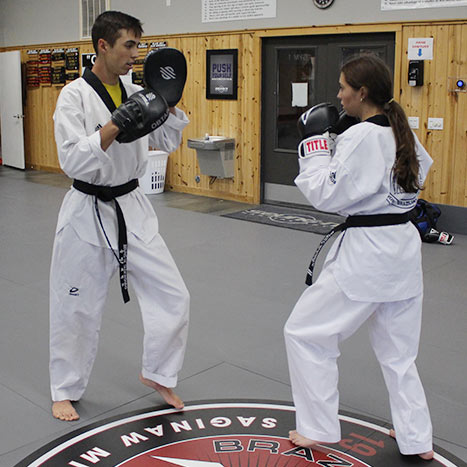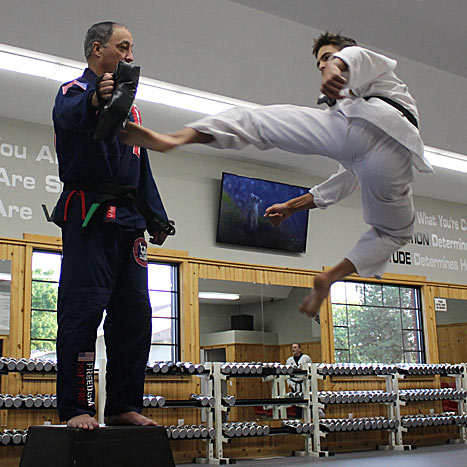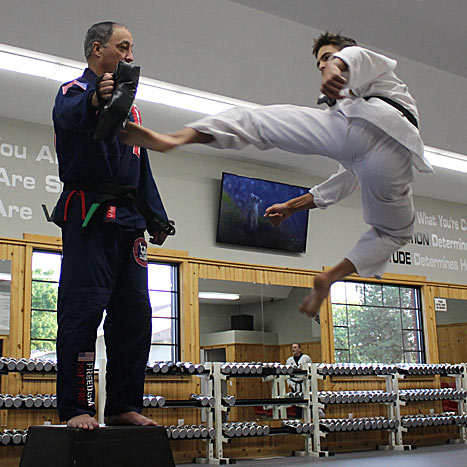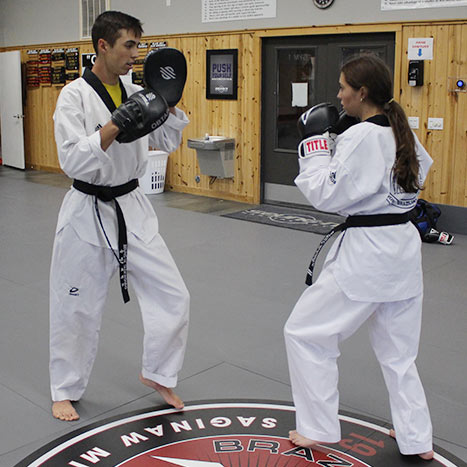 The benefits of Taekwondo
Beginning students will thoroughly enjoy starting their journey into the world of martial arts at Seung-ni. Seeking increased fitness, improved flexibility, greater confidence and realistic self defense tools — are just some of the essential reasons why Seung-ni students begin their training. The black belt instructors are non-intimidating, informative and patient. Seung-ni instructors are not there to show the students what they can do personally, but rather to help the students realize what they themselves can do!
The Taekwondo Program is a fun, high energy, core strengthening and complete body workout. From ground grappling to striking and from weapon defense to take downs, students practice in every arena of potential physical threat. The belt system is very organized and allows a student to effectively track his or her progress as they proceed toward their black belt and beyond.
In addition, martial arts training not only greatly reduces stress and puts perspective and balance back into hectic lives, but it also is a great place to meet nice people who share common interests. Those interested in starting training often bring a friend, family member or co-worker with them to try out the program and you are encouraged to do so.
The self protection skills acquired build great confidence in the adult martial artist. And, the ability to spend at least a precious couple hours a week focusing on yourself as opposed to just work and family is key to maintaining a positive mental state.
TAKE ADVANTAGE OF OUR FREE INTRODUCTORY PROGRAM
We are offering you a free introductory program with 100% no obligations or commitment of any kind.
You will get to watch first hand how the expert black belt instructor interacts with, motivates and empowers you child.
Observe how their confidence soars from learning a vital self defense skill to back off any bully.
Listen wth a smile as they recite the 4 Rules of Focus and 3 Rules of Respect.
FREE MARTIAL ARTS UNIFORM (a $40.00 value). In addition, your son or daughter will get their own uniform at the beginning of the first lesson. And, they can keep the uniform as a gift even if you decide Seung-ni Martial Arts is not right for your family.
To schedule your child's first lesson, just call 799-3040 (Saginaw) or 837-1700 (Midland) and tell them you want to register for the FREE Intro Program. And, remember if you do the Introductory Offer and love it – you can enroll your child as a regular student. However, if you do the intro lesson and decide that it is not what you are looking for there is no absolutely no obligation to continue and the uniform is yours to keep!